How Can I Get Rid of My Double Chin?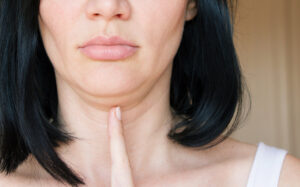 Having excess fat or loose skin underneath the chin is extremely common, but it can make some people feel self-conscious. Also known as a "double chin," this submental fullness or redundant skin tends to reduce the appearance of jawline and chin definition. For those who are unhappy with how their upper neck looks, our team at The Aesthetic Institute of Chicago offers multiple options for addressing this cosmetic concern.
Men and women with a double chin caused by excess fat may be good candidates for the injectable KYBELLA®. This innovative treatment involves a series of injections in the target area, which work to gradually break down fat cells to produce a slimmer neck profile. For more substantial fat deposits, liposuction may be recommended. This popular surgery removes the targeted cells using small cannulas, effectively contouring the neck and chin areas.
KYBELLA and liposuction can be effective methods for reducing a double chin caused by fat. Patients with sagging skin or loose platysmal bands, however, are more appropriate candidates for the neck lift procedure, as this addresses lax tissue and tightens the area.
To learn which double chin treatment is most beneficial for your unique needs, please contact our office to schedule a consultation with one of our board-certified plastic surgeons