What Is Breast Reconstruction?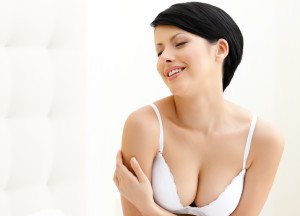 Breast reconstruction surgery is performed to recreate a breast mound in women who have had their breast removed or disfigured due to breast cancer or physical trauma. Reasonable goals for breast reconstruction include rebuilding a natural-looking breast that resembles the opposite breast in size and shape. Bilateral breast reconstruction is becoming increasingly more common as many women opt to have both breasts removed during the course of their treatment. Immediate breast reconstruction refers to initiating the reconstructive effort at the time of mastectomy whereas delayed reconstruction postpones this process for several weeks or even years after mastectomy. Breast reconstruction almost always requires several staged operations, especially if nipple reconstruction is desired. Despite this prolonged process, the vast majority of women receive attractive and durable breast reconstructions with modern plastic surgery techniques.
What Can Breast Reconstruction Do?
For women who have had or plan to have a mastectomy, breast reconstruction can help:
Recreate natural looking breasts with the use of an implant or tissue transplant
Reconstruct a breast removed during a mastectomy that matches the opposite breast's shape and size
Improve symmetry between the breasts
Increase breast volume, when desired
In the end, rebuilding one or both breasts often restores a sense of wholeness and femininity for many women.
Determining Candidacy for Breast Reconstruction
To determine if you are a good candidate for breast reconstruction, one of our board-certified plastic surgeons—Lorri Cobbins, MD or Brian Braithwaite, MD—will review your health history and perform an examination during your consultation. We will also take preoperative photos at your visit, as well as take time to understand your needs and goals before reviewing all available techniques for breast reconstruction. Once all details of potential treatment options have been explained, your doctor can help you formulate a personalized procedural plan that effectively addresses your needs while achieving the best possible outcome.
Breast Reconstruction Options
Dr. Braithwaite and Dr. Cobbins have tremendous experience with breast reconstruction, particularly implant-based reconstruction. During your consultation, you will learn that virtually all women have three options pertaining to breast reconstruction: no reconstruction, implant-based reconstruction, or flap reconstruction. Each of these choices is highlighted below.
No Reconstruction
No reconstruction is a viable option for some women, particularly those who smoke, are obese, or have chronic medical conditions precluding safe surgery. These women often wear external prostheses to achieve contour and symmetry.
Implant Reconstruction
Implant-based reconstruction is, by far, the most common technique for breast reconstruction in the United States. During surgery, a breast tissue expander is placed behind the muscle and skin left after mastectomy. This temporary implant is later serially expanded in the office, expanding these soft tissues until the breast mound reaches a sufficient size. The temporary implant is ultimately replaced with a final breast implant during a second procedure. In addition to nipple reconstruction, subsequent procedures to the opposite breast such as breast reduction, breast enlargement, or breast lift surgery may be performed for improved symmetry. The implant reconstruction process can be started at the same time as a mastectomy, or the patient may choose to wait until a later date.
Flap Reconstruction
Flap reconstruction involves transferring a woman's own tissues to her missing breast, usually to avoid an implant or replace damaged, radiated tissue. Tissue is commonly relocated from the abdomen (TRAM flap), back (lat dorsi flap), or buttocks area (S-GAP flap) to perform these operations. Once donor tissue is transferred to the chest wall, small blood vessels are connected to the repositioned tissue, increasing the likelihood of a successful transfer and long-term results. This repositioned tissue can then be sculpted and contoured to match the opposite breast or, in cases when both breasts are being reconstructed, to meet the cosmetic goals of the patient. Many women and doctors find that flap reconstruction outcomes look and feel more natural than implant reconstruction, despite the added scars and healing time.
Recovery from Breast Reconstruction
"Dr. Brian Braithwaite is the most competent, concerned, and dedicated physician I have encountered…He is meticulous in his patient care, completely dedicated to their well-being."
Breast reconstruction is usually performed under general anesthesia and can be either inpatient or outpatient surgery, depending on the procedure. Some degree of swelling, bruising, and tenderness of the breasts can be expected. Patients who choose flap reconstruction will also experience these side effects at the donor site. We instruct all implant-based breast reconstruction patients to wear sports bras instead of cupped bras during their treatment, to allow for changing sizes and shapes.
Oral pain medication can easily manage any discomfort during recovery, and side effects of the procedure typically dissipate quickly. Most women find it helpful to have a friend or loved one assist them around the house for the first couple days after treatment, particularly with child care when needed. Though the exact time varies from patient to patient, many women return to their normal daily activities within one to two weeks. Strenuous upper body activity will need to be avoided for a few more weeks to ensure proper healing and ideal results.
Breast Reconstruction Cost
Each breast reconstruction procedure is customized to meet the unique needs and goals of the patient. The cost of breast reconstruction will be impacted by a number of variables that may include:
Type of breast reconstruction
Skill and experience of the surgeon
Hospital and anesthesia fees
Cost of postoperative medications
Geographic location of the practice
At the end of your consultation, your plastic surgeon can quote you a price based upon your custom treatment plan.
According to the Women's Health and Cancer Rights Act, health insurance companies that provide coverage for mastectomies are required to provide coverage for breast reconstruction. However, even patients with health insurance may be responsible for part of the cost of the procedure, depending upon the individual health plan. The Aesthetic Institute of Chicago wants to make breast reconstruction affordable to all women in need. We offer a number of financing options that can facilitate low monthly payments with minimal interest rates for qualifying patients. To learn more about our financing options, please contact a member of our team to assist you in the application process.
Contact The Aesthetic Institute of Chicago
For more information, or if you are interested in scheduling a consultation for breast reconstruction at our practice, please contact us via email or call (312) 361-8108 today!