Feeling comfortable in your own body and wearing whatever you choose can be difficult when you're dissatisfied with the appearance of your abdomen and stomach region. This area can be difficult to tone even with a healthy diet and exercise regimen. Also, childbirth, weight loss, and the natural process of aging can lead to loose skin that no amount of exercise can address. We offer tummy tuck surgery to help with these common concerns. Our board-certified plastic surgeons, Dr. Brian Braithwaite and Dr. Lorri Cobbins, offer state-of-the-art techniques to slim, flatten, and tone the abdomen with beautiful results.
What Is Tummy Tuck Surgery?
A tummy tuck, or abdominoplasty, is an operation performed to flatten the abdomen by removing excess skin and fat and repairing separated muscles. When performed correctly, an abdominoplasty can be one of the most powerful form-enhancing procedures available in plastic surgery. Common after pregnancies or major weight changes, excess skin and fat across the abdomen is often resistant to diet and exercise; stretched or separated abdominal muscles also generate visibly poor muscle tone in this area. Stretch marks are also a common problem in this area, and a tummy tuck often eliminates them.
Who Is a Good Candidate for Tummy Tuck Surgery?
To determine if you are a good candidate for a tummy tuck procedure, our doctors will review your health history and perform an examination during your consultation. They will pay close attention to skin tone, existing scars, possible hernias, fat deposits, and muscle abnormalities, as all are important factors that can influence the surgical result. We will also take preoperative photos during your visit. During the consultation, our doctors will understand your goals and desires and they will review available options and techniques.
What Should I Expect During the Tummy Tuck Procedure?
During your consultation, our doctors will review with you the various options available for abdominal rejuvenation. In general, more extensive abdominal wall laxity, particularly in the upper abdomen, requires a full abdominoplasty. This traditional procedure usually requires an incision around the belly button and another incision across the lower abdomen, often extending hip to hip. To blend the contours, liposuction is usually recommended to the waist and abdomen during this surgery. After excess soft tissue is removed, the muscles are tightened or repaired, and the skin is re-draped and closed in a skillful manner.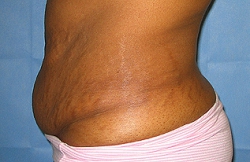 Before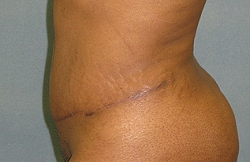 After
What Is a Mini Tummy Tuck?
"A Mini Tummy Tuck Improves the Lower Belly with Less Extensive Surgery"
For patients with less laxity that is confined to the lower abdomen, a limited abdominoplasty, also called a mini tummy tuck, can often meet their goals with a shorter incision. This technique targets only the tissues below the belly button and, often still requires liposuction, but avoids a scar around the navel. Recovery from a limited abdominoplasty is usually easier because less muscle repair is involved.
Tummy Tuck Vs. Liposuction: Which Is Right for Me?
Tummy tuck surgery and liposuction, while often combined, are designed essentially to achieve different goals. Some patients may benefit from having tummy tuck surgery alone, some may benefit from liposuction alone, and others will benefit from a combination of the two techniques. If your primary concern is excess fatty tissue and you have good skin tone, liposuction may be sufficient to provide an excellent outcome. If you have any skin laxity, however, liposuction will not improve this issue and a tummy tuck may be the preferred choice. We will discuss all of your options during your initial consultation, and ultimately you will make the final decision about your care.
What Is Tummy Tuck Recovery Like?
Tummy tuck surgery is typically performed as an outpatient procedure under general anesthesia. We instruct most abdominoplasty patients to wear a compression garment, especially if liposuction was performed. Light exercise is encouraged soon after surgery, but strenuous activity is limited for at least several weeks. Patients may drive and return to work once they discontinue narcotic pain medicine.
What Will My Tummy Tuck Scars Look Like?
We seek to place the incision as low on the hips as possible to provide an appealing and inconspicuous outcome. The incision for a traditional abdominoplasty will run from hip to hip along the bikini line and should be hidden, once healed, when wearing clothes or swimwear. In a mini abdominoplasty the incision is typically shorter. We will demonstrate during your consultation approximately where and how long your incision will be based on your needs and goals. Most people heal very well and the scar fades in color and should become quite smooth with time. Although never completely invisible, many individuals are so happy with their results they don't mind the mostly hidden mark.
Can I Get Pregnant After a Tummy Tuck?
We typically recommend that women finish building their families before having a tummy tuck, but this is not because the procedure in any way affects your fertility. Abdominoplasty is often performed as part of a mommy makeover to help women regain their pre-pregnancy shape, and getting pregnant and having children after the operation could lead to development of the same issues the patient sought to treat with a tummy tuck. If these concerns are bothersome, another procedure may be able to help you once again restore your figure; however, it is more cost-effective to finish having all the children you desire before considering tummy tuck surgery.
How Much Does a Tummy Tuck Cost?
The price of tummy tuck surgery in 2017 was, on average, $5,798*. However, this number does not necessarily represent the full cost of treatment. In addition to the surgeon's fee, you will be responsible for the costs of anesthesia and the use of the facility where the procedure is performed. To help you become well-informed before making a decision, we will go over the full anticipated price of your treatment plan. Our team will also answer your questions and address any concerns. We want you to feel comfortable and confident in your selection. Furthermore, we accept a wide range of payments as well, and work with reputable lenders who offer medical financing for individuals interested in that course of action. We will be happy to go over the details with you during your initial consultation.
*According to the American Society of Plastic Surgeons
Is a Non-Surgical Tummy Tuck Possible?
Many advances in non-surgical technologies have provided minimally invasive solutions to some popular cosmetic treatments; however, there is currently no non-surgical option that can achieve the same effects and benefits as tummy tuck surgery. This procedure trims away excess skin, tightens abdominal muscles, and reduces excess fat in one operation. Mild tightening and toning of the skin may be possible with certain treatments, but no method can address diastasis recti (separation of the left and right abdominal muscles) without surgery. If you have questions about whether a non-surgical treatment can achieve your goals, we can advise you about your options and which approach can provide the optimal outcome for you.
For more information about tummy tuck surgery or to schedule a consultation at our Chicago plastic surgery practice, please contact us via email or call (312) 361-8108 today.