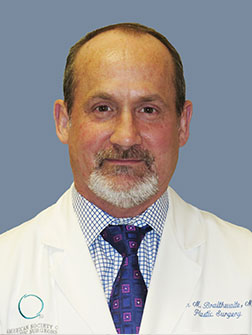 A native of Chicago, Dr. Brian Braithwaite received his undergraduate education at the University of Chicago and his medical education at the University of Illinois College of Medicine in Chicago. Following a surgical internship in Chicago, Dr. Braithwaite joined the United States Navy to become a flight surgeon. After a tour with the Marines, Dr. Braithwaite resumed formal surgical training as a resident in general surgery at Keesler Medical Center, Keesler Air Force Base, where he fostered his interest in plastic surgery. Dr. Braithwaite then went on to train in plastic surgery at the University of Louisville, a program with an illustrious history in this field.
After completing his training, Dr. Braithwaite became a staff plastic surgeon at Bethesda Naval Medical Center, "the President's Hospital," just outside Washington, DC. Achieving the rank of Commander, Dr. Braithwaite spent his last several years on active duty as the Chief of Plastic Surgery at Bethesda. Bethesda received the majority of Marine and Navy casualties from the Iraq and Afghanistan conflicts and Navy plastic surgeons were involved in many of the reconstructive efforts. This medical center also housed the Breast Care Center, the headquarters for a tremendous amount of breast reconstruction patients in the National Capital Area. Dr. Braithwaite provided breast reconstruction for the majority of these cancer patients. Dr. Braithwaite also performed countless primary and revision breast surgery procedures at Bethesda, and he was named Assistant Professor at the Uniformed Services University of the Health Sciences. Dr. Braithwaite is board-certified by the American Board of Plastic Surgery, is a Fellow of the American College of Surgeons and an active member of both the American Society of Plastic Surgeons (ASPS) and the American Society for Aesthetic Plastic Surgery (ASAPS). Dr. Braithwaite takes this vast experience with him to his Chicago practice.
In 2016, Dr. Braithwaite was announced as the "BOTOX® King" in Chicago magazine's "Best of Chicago" issue. The publication cited his experience as chief of plastic surgery at Walter Reed National Military Medical Center as confirmation of his unique qualifications. Dr. Braithwaite designs and administers all custom-tailored BOTOX® Cosmetic treatment plans for his patients at The Aesthetic Institute of Chicago, helping to ensure the highest level of safety and efficacy for optimal results.
Why Is It Important to Choose a Board-Certified Plastic Surgeon?
To achieve your cosmetic goals as safely and effectively as possible, it's essential that you choose a board-certified plastic surgeon. Plastic surgeons who are certified by the American Board of Plastic Surgery have completed the requisite education and training to become licensed plastic surgeons, and they have been evaluated according to rigorous standards. Board-certified plastic surgeons are required to complete continuing education courses to maintain their certification, and these courses keep them up to date on the latest techniques and technologies in the industry.
How to Find the Best Plastic Surgeon for You
Finding the ideal plastic surgeon for you begins with some research. Most surgeons have websites, and you can use this as a resource for information. Check out a potential surgeon to see if they are board-certified, offer the procedure or procedures you're interested in, and have the level of training and education appropriate to their field. Next, the consultation. The first meeting is an important one, and one where you can ask lots of questions, get personalized advice, and learn more about a surgeon's demeanor and practice philosophy. Are they a good listener? Do they make you feel confident in their approach? Some of the questions you might want to ask include:
You will likely have many more questions, but these can help get you started. If you would like to learn more about plastic surgery options, please contact Dr. Braithwaite to schedule a consultation. Dr. Braithwaite will be happy to discuss your options with you and come up with a treatment plan that is unique to your needs.