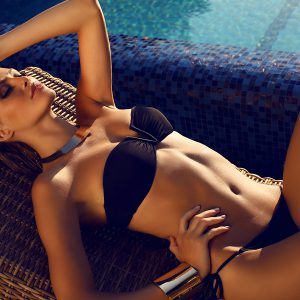 Body contouring surgery encompasses a wide range of procedures designed to improve soft tissue contours in both men and women. To enhance a physique, plastic surgeons usually remove skin or fat, tighten remaining skin, and sometimes repair distorted muscle. Some patients desire a focused procedure that primarily addresses one area, such as abdominoplasty. Others desire a more far-reaching rejuvenation, such as adding trunk and extremity liposuction to a lower body lift. Our experienced board-certified plastic surgeons Dr. Brian Braithwaite and Dr. Lorri Cobbins are uniquely trained and qualified to perform the full range of body contouring procedures. Numerous options and techniques are available to safely perform these enhancements, and physical examination and patient expectations often dictate the best choice. Our doctors are exceptionally qualified to present all of your options to you during your consultation, and you should leave our office with a clear understanding of any proposed treatment plan.
Please follow the links below for more information about our procedures. If you're ready to take the first step toward your cosmetic goals, contact Dr. Braithwaite or Dr. Cobbins to schedule a consultation at The Aesthetic Institute of Chicago.
Avéli™ for Cellulite Reduction
Avéli™ is an FDA-cleared cellulite reduction treatment for adult women that is designed to create smoother, more even skin texture in the thighs and buttocks. The minimally-invasive technique addresses the cause of cellulite to diminish the condition's telltale signs of skin depressions and "dimples."
Learn more about Avéli™.
Tummy Tuck (Abdominoplasty)
Medically referred to as abdominoplasty, tummy tuck surgery can reduce excess tissue and tighten muscles on the abdomen for a firmer, flatter appearance. This procedure is popular with women who have had children and patients who have lost significant weight and were left with loose skin.
Learn more about tummy tuck surgery.
Liposuction/Liposculpture
One of the most commonly performed techniques in cosmetic surgery, liposuction removes excess fatty tissue in a targeted area. Liposuction can be performed virtually anywhere on the body, including common "trouble spots" like the abdomen, hips, and thighs.
Learn more about liposuction.
Plastic Surgery After Weight Loss (Post Bariatric)
Many patients are bothered by loose, excess skin after losing a substantial amount of weight, either through traditional diet and exercise or via bariatric surgery. This tissue can be removed to highlight the results gained through weight loss and to eliminate the irritation and psychological discomfort caused by this extra skin.
Learn more about plastic surgery after weight loss.
Lower Body Lift
A lower body lift combines several techniques to provide more comprehensive skin tightening. For patients who have excess skin on the abdomen, thighs, buttocks, and hips, a lower body lift can help to address all of these areas at the same time.
Learn more about lower body lift surgery.
Arm Lift (Brachioplasty)
Excess skin on the upper arms, sometimes called bat wings, can be difficult or impossible to tone through diet and exercise. Arm lift surgery can eliminate excess fat and skin in this area for slimmer, fitter-looking arms that look great in and out of sleeves.
Learn more about arm lift surgery.
Thigh Lift
Stubborn fat and excess skin on the thighs can chafe and cause discomfort, both physical and psychological. A thigh lift can trim away the unwanted tissues and slim the thighs for a more athletic look that better shows the hard work of weight loss and healthy living
Learn more about thigh lift surgery.
Brazilian Butt Lift
Enhance the size, shape, and appearance of the buttocks without the need for implants or foreign objects. Brazilian butt lift offers an innovative way to contour the derriere with beautiful, lasting results that are truly natural-looking.
Learn more about the Brazilian Butt Lift.
Fat Transfer
Fat grafting, also known as fat transfer, is a process that uses your own excess fatty tissue and repurposes it to contour and add volume to other areas of the body, including the face, breasts, and buttocks. One of the many benefits of this procedure is the natural-looking and enduring outcome.
Learn more about fat transfer.
Please contact Dr. Brian Braithwaite or Dr. Lorri Cobbins for more information, or to schedule a consultation for body contouring surgery at the The Aesthetic Institute of Chicago, please call (312) 361-8108.