What Is Revision Breast Surgery?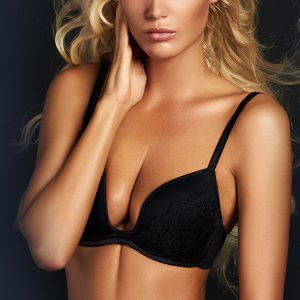 Revision breast surgery is a secondary procedure intended to improve the outcome from a previous surgery, such as breast augmentation. Common reasons patients desire a revision include exchanging breast implants, completely removing implants, or correcting disappointing results. Since revisions to a previous surgery can be more complex, due to scar tissue and other factors, it is essential that you find a qualified plastic surgeon experienced in revision breast surgery to ensure the best possible outcome. Our board-certified plastic surgeons at The Aesthetic Institute of Chicago, Dr. Brian Braithwaite and Dr. Lorri Cobbins, are committed to helping patients achieve the breast appearance they desire by repairing complications from their previous surgery.
What Does the Revision Breast Surgery Consultation Involve?
When you come in for your consultation, Drs. Braithwaite or Cobbins will listen to your concerns, go over your medical history, and discuss your goals with revision breast surgery. You should bring any implant records from your previous surgery if you have them, as this can help our team in planning your revision. Based on the reasons for your revision surgery, Drs. Braithwaite or Cobbins will explain the best options to address your concerns and customize a treatment plan to help you obtain your desired results.
Throughout your visit, you are encouraged to ask any questions you may have so our team can help you understand what to expect from your procedure. Please keep in mind that you will need to have realistic expectations for your results to be a good candidate. When you leave your appointment, you should have a clear view of what your procedure can help you achieve.
What Can I Expect in My Revision Breast Surgery?
Breast Implant Exchange
New implants may be desired for cosmetic reasons or to address a complication. Some patients choose to exchange their saline implants for silicone gel implants, as this material often looks more natural. Other women may desire to change their implant size or projection for a different look. Drs. Braithwaite and Cobbins will listen closely to your aesthetic goals to help you choose the right implant details for your revision surgery. Breast implant exchange has become a common procedure for altering previous results from breast augmentation. However, replacing implants can be a more challenging procedure than the original augmentation, which is why you should find an experienced surgeon to provide your new breast implant look. Drs. Braithwaite and Cobbins work with patients to ensure all concerns are met and they receive the best possible results.
Capsular Contracture
Capsular contracture forms when scar tissue hardens in the capsule surrounding the breast implant. While normal scar tissue consists of a thin lining, capsular contracture is solid and dense. This complication can lead to a displeasing appearance and texture on the outside of the breast.
Capsular contracture seems to have been a greater problem with earlier implant designs, and radiation therapy for breast cancer can raise the chances of this condition to develop. As a solution, our surgeons will remove the defective capsule or the scar tissue through procedures known as capsulectomy or capsulotomy, respectively. The existing implant may be salvaged or we may replace them with new implants, depending on their age, design, and patient preference.
Breast Implant Removal
Breast implant removal has proven to be a reliable procedure for patients who are not satisfied with their breast implants and want them removed altogether without having them replaced. Many patients have their breast implants removed due to capsular contracture; when the texture and shape of the implants have changed due to a buildup of hardened scar tissue. Often times, breast implant removal is a straightforward procedure but for those with capsular contracture or dealing with a ruptured implant, the process may be more technical and time consuming.
Many patients have found that after breast implant removal surgery their natural breasts retain their original contour and volume. However, other patients with larger implants, or those who have had their implants for longer periods of time, may need to seek out a breast lift to help return their chest to a more naturally youthful shape and position.
Breast Implant Deflation
"Thank you for being a perfectionist and allowing God to bless you…All of your patients are truly blessed to have you as their doctor."
Breast implants are not designed to last forever and may eventually need to be replaced. Over time, the outer structure of the implant may become compromised, and with saline implants, this can lead to a rupture that causes them to deflate. While this can be alarming at first, as the loss of saline solution can cause your breast to change shape, our surgeons are here to provide timely help through revision surgery. If your implants are older, you will likely be recommended to replace both implants during the same procedure. This prevents the need for an additional revision later to exchange the other breast implant. Some women may choose to use their revision as an opportunity to change their implants to a different size or from saline to silicone.
Depending on your breast implant manufacturer and warranty, you may be eligible for coverage of your deflated saline breast implant, which may also include replacement of the other implant as well. When you come in for your consultation, we ask that you bring any paperwork or records of your initial augmentation, allowing us to evaluate your warranty eligibility.
How Much Does Revision Breast Surgery Cost?
The cost of revision breast surgery will greatly vary from patient to patient, due to the highly personalized nature of the procedure. During your consultation, your plastic surgeon will go over the details of your revision surgery, and you will be provided with a cost quote to help you budget for your treatment. If you are undergoing breast implant exchange, you may be eligible for full or partial coverage if your implants are still under warranty. This is why we request that you bring any implant records you may have to your consultation.
To speak with Dr. Brian Braithwaite or Dr. Lorri Cobbins and learn more about breast implant removal, please contact The Aesthetic Institute of Chicago today.