Unlike BOTOX® Cosmetic, dermal fillers do not affect muscle activity. Instead, these injectable products enhance appearance by adding volume. Some time ago, plastic surgeons discovered that volume loss occurs in the aging face. Volume loss can be as responsible for an aged appearance as skin laxity. In fact, soft tissue volume loss contributes to skin laxity. Rather than routinely tightening loose, wrinkled skin, plastic surgeons realized that adding volume often avoids, or at least postpones, the need for more invasive procedures. With a variety of fillers to choose from, our board-certified plastic surgeons—Dr. Brian Braithwaite and Dr. Lorri Cobbins—can soften facial folds and wrinkles, augment the lips and cheeks, enhance facial contours, and even improve recessed scars.
Dr. Cobbins and Dr. Braithwaite have extensive experience with the full range of injectable fillers, and they will select the most appropriate product to meet your needs. Learn about the FDA-approved fillers available at The Aesthetic Institute of Chicago by visiting the sections below.
JUVÉDERM®

From the JUVÉDERM® family of fillers, our practice offers JUVÉDERM®, JUVÉDERM VOLUMA®, and JUVÉDERM VOLBELLA®. Comprised of hyaluronic acid (HA)—a naturally occurring skin substance—these products can reduce facial wrinkles, restore volume to the cheeks and midfacial region, soften nasolabial folds, augment the lips, and decrease lines around the mouth. Due to their natural composition, they do not require skin testing prior to treatment. Depending on the targeted area and specific concern being addressed, JUVÉDERM® injections tend to last six to twelve months, and JUVÉDERM VOLUMA™ has been clinically-proven to last up to two years in many instances. For most patients, JUVÉDERM VOLBELLA® results usually last about one year.
Restylane®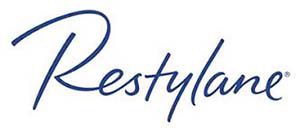 Also composed of a hyaluronic acid solution, the Restylane® family of fillers includes Restylane®, Restylane® Lyft, Restylane® Silk, Restylane® Refyne, Restylane® Defyne, and Restylane® Kysse. These products work well to diminish lines around the corners of the mouth and nose, soften marionette lines and nasolabial folds, augment the cheeks and midface, add volume to the lips, and improve skin elasticity. Restylane® targets wrinkles and folds, such as nasolabial folds, and can also plump the lips. Restylane® Silk is designed to augment the lips in addition to smoothing perioral lines. Restylane® Refyne and Defyne are formulated to address moderate and severe smile and laugh lines. Restylane® Kysse is the newest of this family of fillers, designed with XpresHAn Technology™ to provide a flexible and natural-looking lip augmentation and address upper perioral wrinkles.
No skin testing is required prior to treatment due to the natural HA composition of each injectable. Depending on the unique concern and facial area being targeted, the results of products within the Restylane® family typically last about six to twelve months.
Radiesse®

Radiesse® contains calcium-based microspheres and stimulates collagen production in treated areas. This product can augment cheekbones and improve deep nasolabial folds and marionette lines. Radiesse® is also FDA-approved for facial lipoatrophy. No skin testing is required, and results usually last at least one year.
Sculptra®

Sculptra® contains polylactic acid microparticles, which are similar to components found in absorbable sutures. Like Radiesse®, Sculptra® also stimulates collagen production to increase skin thickness, but it requires a series of treatments several weeks apart. Sculptra® is a universal filler and has a variety of applications, including hand rejuvenation. This product is also FDA-approved for facial lipoatrophy. No skin testing is required, and Sculptra® usually lasts for at least two years. Our doctors have extensive experience treating facial lipoatrophy patients with Sculptra®.
The Dermal Filler Treatment Process
To determine if you are a good candidate for injectable fillers, your doctor will review your health history during your consultation. After understanding your goals and desires, Dr. Cobbins or Dr. Braithwaite will carefully examine your facial regions and create an individualized treatment plan, making sure to explain all details to you so you are fully informed. If you elect to proceed with treatment, your doctor will inject soft tissue fillers with very small needles. We offer local anesthetic or topical anesthetic cream to minimize discomfort during the injections. BOTOX® Cosmetic can be added to most filler treatments.
Following the procedure, bruising is infrequent and any swelling is temporary. Depending on the specific filler(s) employed, results may appear immediately or gradually become more noticeable over the course of a few days. We recommend avoiding strenuous exercise just after treatment, but patients may drive and return to work immediately.
To learn more about injectable fillers, or if you would like to schedule a consultation at our practice, please contact us online or call (312) 361-8108 today.