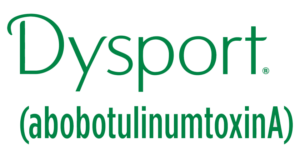 At The Aesthetic Institute of Chicago, we offer the prescription injectable known as Dysport, which is a neurotoxin able to address those unwanted frown lines between your eyebrows. Dysport has been used to treat a wide range of cosmetic defects, but it is primarily used for wrinkles above and between the eyebrows. If you want to smooth these unwanted creases for a more youthful facial appearance, our team can help you determine if Dysport is your best option, or if an alternative like BOTOX® Cosmetic is more beneficial.
What is Dysport?
Created by Galderma Laboratories, Dysport is made from a strain of botulinum toxin type A that helps temporarily relax muscles between the eyebrows for a smoother appearance. Formerly known as Reloxin, it was originally used as a relaxer for cervical dystonia, spasticity, and other syndromes that cause involuntary movement. For our purposes it is primarily used to reduce frown lines between the eyebrows. Generally, individuals ages 65 and under are the best candidates for this treatment and can see results within 48 hours of their procedure.
What are the Benefits of Dysport?
The benefits of Dysport may vary for each patient depending on their individual needs and goals. However, most patients can expect Dysport to provide the following benefits: 
Reducing frown lines 
Smoothing wrinkles for up to five months
Showing rapid results from just one session of treatment
Providing a more vibrant and youthful look
Improving self-confidence
During your initial consultation, our team will go over all of the potential benefits of Dysport and what you can expect from the treatment.
What Does the Dysport Treatment Involve?
The actual procedure for Dysport involves one session that lasts about 10 to 20 minutes. During this appointment, your aesthetic professional will use a small needle to carefully inject the material into the targeted area. Dysport is typically applied to the area between and above your eyebrows. Used to reduce vertical lines on your forehead, the treatment can have long-lasting results that show within two to three days of your treatment.
How Long Do Dysport Results Last?
Dysport results will typically last up to five months, but you will likely see those results begin to wear off by that point. You can also choose to have a follow-up session that can produce similar results to your first treatment after the effects have started to subside over time. Our practice will advise you on the longevity of the results and if you can benefit from multiple treatments.
How Much Does Dysport Cost?
Once you have your initial consultation our team will provide you with all the relevant information related to the cost of Dysport. The cost will depend upon the areas you desire to be treated, as well as the amount of Dysport required to obtain your result.
If you're interested in Dysport treatment or would like more information about our other injectables, such as our dermal fillers, please contact our practice today.