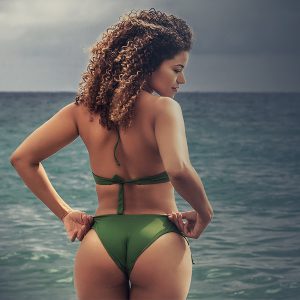 Designed to enhance the size and/or contour of the buttocks, a Brazilian Butt Lift can be an excellent option for individuals who are dissatisfied with the appearance of their backside. Traditionally, buttock augmentation has been performed using gluteal implants, which tend to have high complication rates and often produce an unnatural look and/or feel. In contrast, a Brazilian Butt Lift involves the injection of fat harvested from the abdomen, hips, thighs, or other areas of the body that have enough fatty tissue available for transfer. Not only can this technique improve the safety of the procedure, fat injection can also enable a higher degree of customization and more natural-looking results.
Prior to a Brazilian Butt Lift,Dr. Brian Braithwaite and Dr. Lorri Cobbins will determine whether or not the patient has an ample amount of fatty tissue in potential donor regions to be considered a good candidate. For qualified individuals, fat cells will first be removed from the targeted area(s) using liposuction, which provides the added benefit of body contouring in the specific location. Once harvested, the fat is carefully filtered, purified, and prepped for reinjection into the buttocks via a sterilized syringe and small cannula. Approximately 30-40% of fat transferred to the gluteal region typically gets reabsorbed by the body, but about 60-70% will survive permanently for excellent long-term results. To account for this reabsorption, extra fat is often injected for optimal outcomes.
Following the procedure, a compression garment will need to be worn for at least four weeks in order to help diminish swelling and ensure an ideal shape is maintained. Drs. Cobbins and Braithwaite typically advise patients to refrain from sitting directly on their backside for about three weeks, though modified chairs and special cushions can often be used to minimize pressure while seated. Some minor swelling and tenderness can be expected initially, but these side effects should dissipate within about one to two weeks. While strenuous physical activity and exercise will often need to be avoided for at least three weeks, most buttock augmentation patients are generally able to resume normal daily routines after approximately one week.
If you have any questions about the Brazilian Butt Lift procedure, or if you would like to schedule a consultation with one of our board-certified plastic surgeons, please feel free to contact us today.