What Is Breast Lift Surgery?
"Thank you again for doing my surgery, I think you are a great doctor."
A breast lift, or mastopexy, is an operation performed to elevate and reshape the female breast. Largely due to gravity, pregnancy, and weight fluctuations, a woman's breasts can seemingly deflate, lose firmness, and increasingly sag over time, a condition known as breast ptosis. To reverse these changes, plastic surgeons can tighten the breast skin and reposition the breast tissue, providing a more youthful shape with improved nipple position. The areola diameter can also be reduced as desired. Depending on tissue characteristics and patient desires, mastopexy is often combined with breast augmentation to dramatically enhance size, contour, and firmness. In fact, although mastopexy alone can provide many years of renewal, the addition of breast implants to the procedure usually helps ensure a very long-lasting result.
What Can Breast Lift Surgery Do?
Customized to address the unique concerns of each patient, breast lift surgery can:
Eliminate excess breast skin to resolve drooping
Elevate breast tissue to a more youthful position
Reshape breast tissue for improved contour and symmetry
Resize and/or reposition the nipple-areolar complexes
Rejuvenate the overall appearance of the breasts
Despite these enhancements, breast lift surgery is not capable of restoring lost volume and/or increasing the size of the breasts. If this desired, breast augmentation will typically need to be performed in conjunction with mastopexy to achieve an optimal outcome.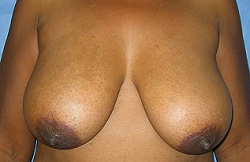 Before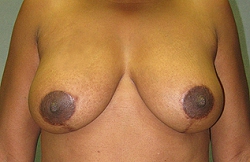 After
Determining Candidacy for Breast Lift Surgery
To determine if you are a good candidate for breast lift surgery, Chicago plastic surgeons Brian Braithwaite, MD or Lorri Cobbins, MD will review your health history and perform an examination during your consultation. They will also take preoperative photos at the time of your visit. You may be required to have a mammogram before your surgery, depending on your age and last study. During the consultation, we will take time to understand your goals and desires as well as review available options and techniques. When a personalized procedural plan is agreed upon and you feel comfortable moving forward with treatment, the date of your surgery can be scheduled.
The Breast Lift Procedure
Breast lift surgery is usually performed as an outpatient procedure under general anesthesia. In general, the more dramatic the proposed changes to the breasts become, the more invasive the mastopexy procedure will be. The least invasive breast lift involves making circular incisions around the areola, removing excess skin, elevating the nipple position, and closing the wound around the pigmented areola. This is often called the "concentric ring" or "doughnut" mastopexy. A more invasive technique includes this concentric ring design, but also adds a vertical incision downward from the areola to allow more breast tissue repositioning. This design is often called the "circumvertical" or "lollipop" mastopexy. The most invasive technique for breast lifting resembles breast reduction incisions, except that little or no breast tissue is removed. Instead, only skin is removed and the breast tissue itself is dramatically repositioned. In this case, scars encircle the areola, extend vertically downward, and continue horizontally in the crease under the breast. This technique is often called the "anchor" mastopexy, due to the incision pattern.
Regardless of the specific approach employed, our doctors will make every effort to minimize scar length during mastopexy surgery. All of these mastopexy techniques allow for the addition of breast augmentation, either simultaneously or at a later date.
Recovery from Breast Lift Surgery
Immediately following breast lift surgery, some degree of swelling and/or bruising is likely, though these symptoms should gradually diminish over time. While significant postoperative pain is rare, any tenderness or discomfort experienced within the first few days can be well-managed with medication until fully resolved. To aid with healing, our plastic surgeons instruct all patients to wear surgical or sports bras throughout the recovery process, as well as to avoid strenuous upper body activity for several weeks. Most women may drive and return to work and non-strenuous daily routines once they discontinue narcotic pain medicine.
Breast Lift Cost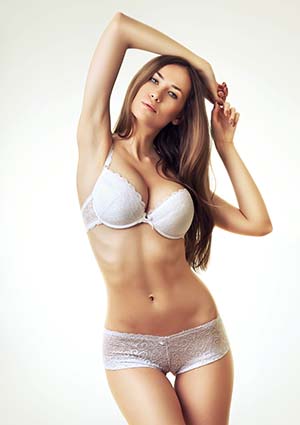 The average cost of breast lift surgery in the United States is roughly $4,600*. This expense is indicative of the plastic surgeon's fee and does not include supplementary costs such as operating facility and anesthesia fees. Additional factors that can influence mastopexy pricing include:
Expertise and experience of the plastic surgeon
Complexity of the procedure and specific technique utilized
Whether or not breast implants are also placed
Any medications needed before or after surgery
Region/city in which the practice is located
To help make breast lift surgery affordable for all women interested in treatment, The Aesthetic Institute of Chicago partners with CareCredit®—a trusted healthcare lender that offers numerous payment plan options with little to no interest rates. Once your doctor has provided a customized estimate of the total cost at the time of your consultation, a member of our team will be happy to get you started with the CareCredit® application process if financial aid is desired.
*This average mastopexy cost was taken from 2017 statistics gathered by the American Society of Plastic Surgeons (ASPS). To receive a personalized price quote for breast lift surgery, an in-person consultation with one of our board-certified plastic surgeons is required.
Breast Lift FAQs
Below are answers to questions our doctors frequently hear from patients considering mastopexy.
Q: Will I have visible breast lift scars?
A: Scarring is an inevitable aspect of any procedure involving incisions. That said, Dr. Cobbins and Dr. Braithwaite are committed to achieving exceptional mastopexy results with as minimal scarring as possible. In addition to employing meticulous surgical technique and carefully closing incisions with the utmost precision, they will provide detailed instructions on what you can do to promote ideal healing for an optimal final scar appearance. Regardless of the incision method utilized, breast lift scars can usually be concealed under virtually all styles of bikinis and underwear.
Q: Can I get a breast lift without surgery?
A: Unfortunately, there are currently no non-surgical techniques—including breast lift exercises—that can effectively resolve moderate to significant breast drooping. This is because one of the main causes of breast drooping is a notable amount of excess skin, which is a concern that can only be resolved through surgical excision.
Q: Do I need a breast lift with implants?
A: Patients will generally require a breast lift with implants—also known as augmentation with a lift or augmentation-mastopexy—if they desire to accomplish one or both of the following in addition to correcting breast sagging:
Restore lost volume caused by pregnancy, weight loss, genetics, and/or aging
Attain a larger breast size than they had previously
It is important to understand that mastopexy can certainly improve and rejuvenate the appearance of the breasts, but it will not increase breast size when performed on its own. Breast implants are needed for volume restoration and/or enlargement.
For more information about breast lift surgery or to schedule a consultation at our Chicago plastic surgery practice, please contact us online or call (312) 361-8108 today.