Chicago Plastic Surgeon Addresses Common Breast Augmentation Questions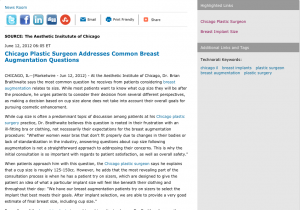 Chicago, IL — At the Aesthetic Institute of Chicago, Dr. Brian Braithwaite says the most common question he receives from patients considering breast augmentation relates to size. While most patients want to know what cup size they will be after the procedure, he urges patients to consider their decision from several different perspectives, as making a decision based on cup size alone does not take into account their overall goals for pursuing cosmetic enhancement.
While cup size is often a predominant topic of discussion among patients at his Chicago plastic surgery practice, Dr. Braithwaite believes this question is rooted in their frustration with an ill-fitting bra or clothing, not necessarily their expectations for the breast augmentation procedure: "Whether women wear bras that don't fit properly due to changes in their bodies or lack of standardization in the industry, answering questions about cup size following augmentation is not a straightforward approach to addressing their concerns. This is why the initial consultation is so important with regards to patient satisfaction, as well as overall safety."
When patients approach him with this question, the Chicago plastic surgeon says he explains that a cup size is roughly 125-150cc. However, he adds that the most revealing part of the consultation process is when he has a patient try on sizers, which are designed to give the patient an idea of what a particular implant size will feel like beneath their clothing and throughout their day: "We have our breast augmentation patients try on sizers to select the implant that best meets their goals. After implant selection, we are able to provide a very good estimate of final breast size, including cup size."
Regardless of the breast implant size and type his patients choose, Dr. Braithwaite says the initial consultation contributes to the success of any procedure a patient is considering on several levels.
– Obtain thorough health history to maintain highest quality patient care and safety
– Discuss all risks and benefits of procedure, including what the future holds
– Conduct a breast exam to help guide the patient in breast implant selection
By the end of the consultation, Dr. Braithwaite says patients feel extremely knowledgeable about breast augmentation and possess the information necessary to provide informed, confident consent to continue with the cosmetic enhancement procedure. "I'm always happy when a patient enters the consultation with a list of questions. However, I aim to educate each patient based on their individual goals, whether they come in with questions or not, as I want them to leave the consultation feeling confident about their options, and looking forward to their procedure."
About Brian Briathwaite, MD
After completing his medical education at the University of Illinois College of Medicine and a surgical internship in Chicago, Dr. Brian Braithwaite joined the US Navy to become a flight surgeon. Following an active tour of duty with the Marines, he resumed formal surgical training at Keesler Medical Center, and then went on to complete his plastic surgery residency at the University of Louisville. Dr. Braithwaite is certified by the American Board of Plastic Surgery, and is a Fellow of the American College of Surgeons.
The Aesthetic Institute of Chicago is located at 601 W. Randolph St., Chicago, IL 60661, and can be contacted at (312) 361-8108. Dr. Braithwaite and his team can also be found online at drbraithwaite.com and their Chicago Plastic Surgery Facebook page.