How to Sleep After Breast Augmentation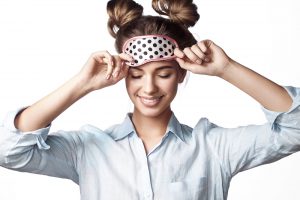 The healing process after any surgery can require patience and some lifestyle adjustments. The same is true for breast augmentation. To help you recover as quickly, effectively, and comfortably as possible, our board-certified plastic surgeons have provided some tips to help you sleep during the first few weeks after the procedure:
Recline at an angle to minimize pressure on your implants
Sleep on your back if possible, or on your side if you cannot sleep on your back
Place a pillow on your side to help keep you in position while you sleep
Wear a sports bra while sleeping to reduce pressure on your incisions
Avoid lying on your stomach until after the first several weeks
If you used to sleep on your stomach routinely, you may find that this position is less comfortable even after you have healed, due to the changes in body contour. However, once healed, any sleep position should be fine as long as you experience no pain. Some adjustment initially is necessary to enjoy the best possible outcome, and our medical team is available to provide additional suggestions and advice as needed during your recovery.
For more information on sleeping after breast augmentation, or any cosmetic procedure, please contact our practice.