How Our On-Site, AAAASF-Accredited Surgical Facility Sets Us Apart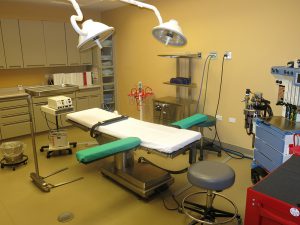 The Aesthetic Institute of Chicago is proud to house an on-site, AAAASF-accredited surgical facility at our practice. With this state-of-the-art operating space, Dr. Lorri Cobbins and Dr. Brian Braithwaite are able to perform all plastic surgical procedures right here at our office with the same degree of safety and level of care they would be able to provide in a hospital setting.
Although on-site surgical facilities are not unheard of, what distinguishes our operating room from many others is the AAAASF accreditation. AAAASF stands for the American Association for Accreditation of Ambulatory Surgery Facilities, Inc., which is the premier accreditation organization in the country. To become AAAASF-accredited, a non-hospital-affiliated operating facility must meet and continually uphold certain standards of excellence set forth by the American Association for Accreditation of Ambulatory Surgery Facilities, Inc. This includes (but is not limited to) the following requirements:
Surgeons must have hospital operating privileges for all procedures performed in the on-site facility.
Deeper levels of anesthesia must be administered by an anesthesia professional.
All technologies, drugs, and overall office environment must comply with regulations and standards outlined by AAAASF.
The surgical facility must meet the same standards that hospitals are required to meet.
All federal laws affecting operations must be followed.
The facility must be peer-reviewed, and all surgical data must be collected on regular basis.
Along with the peace of mind that every procedure is performed in a safe and controlled environment, our AAAASF-accredited surgical facility offers the benefit of absolute privacy, the convenience of visiting only one location throughout all phases of treatment, and the ability for our entire team to be on-site and available to provide an unparalleled quality of care and attention.
If you would like more information about our on-site surgical facility, or if you are interested in plastic surgery and wish to schedule a consultation with one of our board-certified plastic surgeons, please contact our practice today.