Dr. Braithwaite Named 'BOTOX® King' in Chicago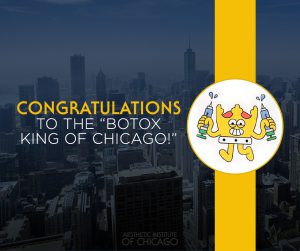 At The Aesthetic Institute of Chicago, we are dedicated to helping our patients look as vitalized and youthful on the outside as they feel on the inside. In addition to our wide range of surgical offerings that can rejuvenate the face, body, and breasts, our non-surgical procedures are quite popular thanks to their less invasive nature and shorter recovery times. BOTOX® Cosmetic, in particular, is one of our most requested non-surgical treatments due to its ability to effectively reduce the appearance of fine lines and wrinkles on the face with natural-looking results.
Though many other practices employ aestheticians and/or nurses to administer injectable treatments, we take pride in having our board certified plastic surgeons perform each and every BOTOX® Cosmetic injection. Since maximizing the results of this minimally invasive procedure relies on an intricate understanding of underlying facial anatomy, the extensive training and experience of our surgeons can help ensure that an ideal outcome is achieved. Recently, this commitment to giving our patients the best possible care was recognized by Chicago magazine, who named Dr. Brian Braithwaite the "BOTOX® King" in its August 2016 "Best of Chicago" issue. Dr. Braithwaite is honored by this title, and he is thrilled to be recognized by the local community for his services.
For more information about BOTOX® Cosmetic, or to schedule a consultation at The Aesthetic Institute of Chicago, please contact us today.