Chicago Plastic Surgeons Discuss Cosmetic Procedures for Every Age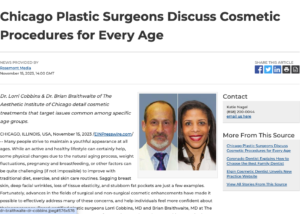 Dr. Lorri Cobbins & Dr. Brian Braithwaite of The Aesthetic Institute of Chicago detail cosmetic treatments that target issues common among specific age groups.
Chicago, IL – Many people strive to maintain a youthful appearance at all ages. While an active and healthy lifestyle can certainly help, some physical changes due to the natural aging process, weight fluctuations, pregnancy and breastfeeding, or other factors can be quite challenging (if not impossible) to improve with traditional diet, exercise, and skin care routines. Sagging breast skin, deep facial wrinkles, loss of tissue elasticity, and stubborn fat pockets are just a few examples. Fortunately, advances in the fields of surgical and non-surgical cosmetic enhancements have made it possible to effectively address many of these concerns, and help individuals feel more confident about their appearance. Board-certified plastic surgeons Lorri Cobbins, MD and Brian Braithwaite, MD at The Aesthetic Institute of Chicago highlight a range of cosmetic procedures that can address aesthetic concerns common among various age groups:
20's – Skin & Breasts
According to Dr. Cobbins and Dr. Braithwaite, prioritizing skin care at an early age with medical-grade products, such as sunscreen and hydrating serums, sets a precedent for healthy, vibrant skin that lasts. Additionally, skin treatments like BOTOX® Cosmetic can help maintain a youthful look by temporarily reducing the ability for muscle contractions in specific facial areas to produce dynamic wrinkles. Many women in their 20's also consider breast augmentation surgery, as this popular procedure allows them to enhance the size of their breasts and create a fuller, more proportionate bust.
30's – Skin, Breasts, & Body
As many women begin motherhood and experience more changes in their bodies, breast lift and augmentation procedures offer comprehensive breast enhancement that can address ptosis (sagginess), loss of volume, and overall shape and projection. For further rejuvenation, body contouring surgeries can help tone and tighten sagging skin, as well as reduce excess fat pockets. Dermal fillers are also popular treatments in this age range as many of these injectable options can add volume in particular facial features (such as the lips and cheeks) and smooth away wrinkles and fine lines.
40's – Face, Body, & Breasts
As patients show signs of aging, injectable dermal fillers like Restylane® and JUVEDERM® can reduce signs of deep facial wrinkles and creases. These treatments are also able to improve the appearance of skin elasticity and firmness, add volume to thin lips, and restore cheek fullness. Additionally, tummy tucks and liposuction are common procedures for patients in their 40s to counteract loose skin and excess fat deposits that do not respond to diet and exercise. Breast lift surgery is also a popular treatment in this age range as it can address signs of a "drooping" bustline that many women begin to experience.
50's and 60's – Face, Neck, and Skin
Patients in their 50s and 60s often struggle with signs of aging in the form of deep facial lines and sagging skin. Facelift and neck lift procedures can revitalize appearances by targeting loose skin and fatty deposits. Additionally, a facial rejuvenation option such as an eyelid lift can diminish signs of drooping skin and puffy eye bags on the upper and lower eyelids.
Ultimately, Dr. Cobbins and Dr. Braithwaite believe that adults of virtually any age range have many choices when it comes to effectively renewing their appearance and looking as young as they feel. They say the most important thing is to thoroughly research highly-qualified plastic surgeons and aesthetic enhancement practices, meet with the provider, and make sure they feel confident that they are in the hands of a true professional who has their safety and best interests at heart.
About Lorri Cobbins, M.D., F.A.C.S.
Dr. Cobbins earned her medical degree and graduated with a Distinction in Research from Saint Louis University. She went on to complete a five-year residency in Otolaryngology (Head and Neck Surgery), as well as formal training in Plastic and Reconstructive Surgery, at the University of Louisville Medical Center. Dr. Cobbins is certified by the American Board of Plastic Surgery and is a Fellow of the American College of Surgeons.
About Brian Braithwaite, M.D., F.A.C.S.
Dr. Braithwaite received his undergraduate education at the University of Chicago and earned his medical degree from the University of Illinois College of Medicine in Chicago. He joined the Navy to become a flight surgeon, then later completed his plastic surgery training at the University of Louisville. Dr. Braithwaite is certified by the American Board of Plastic Surgery and is also a Fellow of the American College of Surgeons.
Dr. Cobbins and Dr. Braithwaite are both available for interview upon request.
For more information, visit aestheticinstitutechicago.com and facebook.com/plasticsurgeonschicago.
Contact:
The Aesthetic Institute of Chicago
601 West Randolph Street
Chicago, IL 60661
(312) 258-9100
Rosemont Media
(858) 200-0044
www.rosemontmedia.com