Chicago Plastic Surgeons Offer Tips for Liposuction Recovery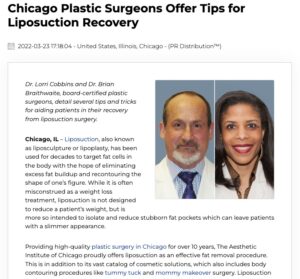 Dr. Lorri Cobbins and Dr. Brian Braithwaite, board-certified plastic surgeons, detail several tips and tricks for aiding patients in their recovery from liposuction surgery.
Chicago, IL – Liposuction, also known as liposculpture or lipoplasty, has been used for decades to target fat cells in the body with the hope of eliminating excess fat buildup and recontouring the shape of one's figure. While it is often misconstrued as a weight loss treatment, liposuction is not designed to reduce a patient's weight, but is more so intended to isolate and reduce stubborn fat pockets which can leave patients with a slimmer appearance.
Providing high-quality plastic surgery in Chicago for over 10 years, The Aesthetic Institute of Chicago proudly offers liposuction as an effective fat removal procedure. This is in addition to its vast catalog of cosmetic solutions, which also includes body contouring procedures like tummy tuck and mommy makeover surgery. Liposuction is a proven surgical technique that has been an ideal and popular choice for patients at the practice who want to get rid of excess fat. Board-certified plastic surgeons Dr. Lorri Cobbins and Dr. Brian Braithwaite, are both experienced at performing liposuction as a fat-eliminating surgery and have helped countless patients achieve optimal results.
While liposuction can generate ideal and life-changing results, the recovery period should be factored into one's decision when a patient considers the surgery. Dr. Cobbins and Dr. Braithwaite believe it is important for patients to know several tips that can ease their discomfort and speed up the entire healing process during their recovery. Both plastic surgeons at The Aesthetic Institute of Chicago recommend that patients who undergo liposuction surgery follow a healthy diet, use prescribed medications as instructed, wear special garments designed for recovery, take walks periodically, drink plenty of water, avoid smoking, and remain patient with their recovery process.
Eating Healthy
Following liposuction surgery, patients will likely experience some degree of discomfort, swelling, and inflammation. Dr. Cobbins and Dr. Braithwaite recommend sticking to anti-inflammatory and all-around healthy foods to help reduce swelling. This may involve eating more vegetables, lean proteins, foods high in antioxidants, and fruits rich in vitamins, as these can help with the overall healing process. In order to avoid extra "bloating," patients can also limit foods that are high in salt.
Using Pain Medication
Managing pain can be a key factor when patients are in recovery following their liposuction procedure. Similar to other surgical procedures, liposuction will likely cause discomfort, bruising, and swelling. Dr. Cobbins and Dr. Braithwaite will be able to prescribe certain medications after surgery to help ease any pain and discomfort. They often recommend patients continue to use the recommended medication until their pain has significantly been reduced.
Wearing Specialized Garments
Each patient will be instructed to wear a specialized garment in their postoperative recovery process. These compression garments are specifically designed to aid patients in recovery, facilitate the healing process, and optimize the results from liposuction surgery.
Taking Walks
While exercise should be avoided for several weeks after liposuction, resuming mild activity, such as with walking, can help speed the recovery process. Getting outside for these walks may even help the mental health of patients as they enjoy fresh air, says Dr. Cobbins and Dr. Braithwaite.
Avoiding Smoking
Dr. Cobbins and Dr. Braithwaite strongly advise patients to avoid smoking before and after their liposuction surgery. Smoking can slow the healing process and increase the potential risk of certain complications.
Staying Hydrated
Drinking plenty of water will play an important role in recovering as your body heals from liposuction. Following surgery, hydration helps keep the body healthy and flush out toxins, says Dr. Cobbins and Dr. Braithwaite.
Remaining Patient & Not Forcing Activity
Dr. Cobbins and Dr. Braithwaite realize that patients are often anxious to complete their liposuction recovery as fast as possible, but both plastic surgeons agree that remaining patient, getting ideal rest, and refraining from strenuous activities will only benefit the patient in the long run. They add that overexerting oneself following liposuction can lead to increased discomfort and potential complications.
For those wanting to know more about liposuction or the vast array of surgical procedures that Dr. Cobbins and Dr. Braithwaite offer, contact them today!
About Lorri Cobbins, MD
Obtaining her medical degree from Saint Louis University in Saint Louis, Missouri, plastic surgeon Lorri Cobbins, MD went on to fulfill a five-year residency in Otolaryngology from the University of Louisville Medical Center where she completed her Plastic and Reconstructive Surgery training. In addition to her extensive educational background, Dr. Cobbins is a Fellow of the American College of Surgeons, is an active member of the American Society of Plastic Surgeons, and is certified by the American Board of Plastic Surgery.
About Brian Braithwaite, MD
Certified by the American Board of Plastic Surgery, plastic surgeon Brian Braithwaite, MD attended the University of Illinois College of Medicine to earn his medical degree. He later went to the University of Louisville where he completed his Plastic Surgery training. He also remains an active member of the American Society of Plastic Surgeons and the American Society for Aesthetic Plastic Surgery. Dr. Braightwaite serves as a Fellow of the American College of Surgeons.
Dr. Cobbins and Dr. Braithwaite are both available for interview upon request.
For more information, visit aestheticinstitutechicago.com and facebook.com/plasticsurgeonschicago.
Contact:
The Aesthetic Institute of Chicago
601 West Randolph Street
Chicago, IL 60661
(312) 258-9100
Rosemont Media
(800) 491-8623
www.rosemontmedia.com