Brief Overview of Tummy Tuck Surgery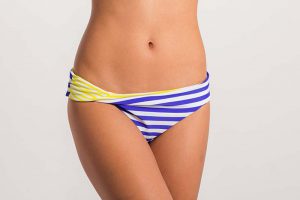 A consultation for tummy tuck surgery typically begins by discussing the specific goals you are aiming to achieve. Once we have a clear understanding of these goals, we define whether or not you need a full or mini-tummy tuck.
If the area of concern is limited to the region below the belly button, a mini-tummy tuck can often be performed. This technique typically requires a shorter incision, and the surgical procedure generally takes less time to complete. The combination of these two factors can often add up to a shorter recovery period, as well.
In contrast, a full (standard) tummy tuck is designed to address the areas above and below the belly, as well as plication or reattachment of abdominal muscles that have separated. This technique is often performed for patients with substantial skin laxity, particularly in the upper abdominal region. A full tummy tuck may necessitate a longer recovery period, but it can also produce significant body contouring results.
In either case, your tummy tuck procedure will often be combined with liposuction to help create a better contour for your waistline and flanks (love handles). Additionally, you will be preoperatively fitted for a compression garment designed to help decrease postoperative swelling and bruising while also helping to enhance your comfort level throughout the recovery process.
Following your procedure, postoperative appointments will usually be scheduled two weeks, six weeks, three to six months, and then one year from the date of your surgery. During your first appointment, we will ensure your compression garment fits properly and that it is being worn as directed. Additionally, we also like to use this initial meeting to make sure your recovery process is progressing as expected. All remaining appointments will then be used to monitor your progress and assess your results.
Contact The Aesthetic Institute of Chicago
To schedule a tummy tuck consultation with Dr. Lorri Cobbins or Dr. Brian Braithwaite, please contact The Aesthetic Institute of Chicago today.