Breast Augmentation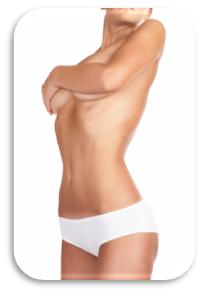 A breast augmentation, or augmentation mammoplasty, is an operation performed to enhance the size of a woman's breasts through the use of silicone or saline implants. This procedure is frequently used to restore volume changes after pregnancy or weight loss, but it can be performed on any woman whose breasts have fully matured. Breast augmentation with different sized implants is particularly helpful in correcting breast asymmetry, a condition where dramatic size differences exist between the two breasts. In cases where significant breast sagging also exists, a simultaneous breast lift is usually required; and this combined procedure is termed a mastopexy-augmentation. Breast enhancement surgery is one of the most popular cosmetic procedures in the country.
While Dr. Braithwaite and Dr. Cobbins have extensive experience with all aspects of breast augmentation, their unique expertise concerns selecting the right implant for the right patient. Since today's implants come in a variety of different shapes and sizes, patients must decide between saline or silicone, smooth or textured, round or anatomic, and a host of varying implant projections. Like Dr.'s Braithwaite and Cobbins, a thoughtful surgeon works with the patient to select the best implant for years to come. Gone are the days when most patients received the same inappropriate implants, followed by expensive revision work. During your breast augmentation consultation with Dr. Braithwaite or Dr. Cobbins, appropriate measurements, soft tissue characteristics, and chest wall anatomy will dictate the most optimal implants for the most durable result. Our Doctors always approach breast augmentation surgery with the utmost attention to detail.
To determine if you are a good candidate for breast augmentation surgery, Dr. Braithwaite or Dr. Cobbins will review your health history and perform an examination during your consultation. You will be given the opportunity to select from various implant sizes to help understand the volume changes and implant dimensions. We will also take preoperative photos during your visit. You may be required to have a mammogram before your surgery, depending on your age and last study. During the consultation, our Doctors will take time to understand your goals and desires, and they will review available techniques and incision sites. Breast implants may be placed either under the breast tissue or under the pectoralis major muscle, depending on tissue characteristics. Common incision sites usually include the crease below the breast or around the areola. Dr. Braithwaite and Dr. Cobbins will make every effort to minimize scar length. Breast augmentation surgery is usually performed as an outpatient procedure under general anesthesia. We instruct all breast enhancement patients to wear surgical or sports bras and to avoid strenuous upper body activity for several weeks. Patients may drive and return to work once they discontinue narcotic pain medicine.
Breast Implant Options
If you would like to schedule a consultation for breast augmentation with implants at our Chicago plastic surgery practice please contact us via email or call (312) 361-8108 today!