How Can I Get More Cleavage?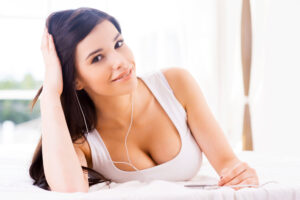 Many women like to accentuate their cleavage to display a fuller, more sensual breast aesthetic. Common ways of achieving a larger, perkier breast appearance include buying push-up bras, wearing clothing with a low neckline, using breast tape, and applying makeup to contour the decolletage to create the illusion of cleavage. In addition, exercise and good posture can often enhance the way one's breasts look. While these methods can all emphasize cleavage, the most dramatic way to enlarge the breasts and obtain noticeable cleavage is through plastic surgery.
Popular breast surgeries that can give women a boost in their cleavage, breast shape, and breast size include breast augmentation with implants and breast fat transfer. With traditional silicone or saline breast implants, patients can obtain more fullness in their upper pole area to achieve the ample cleavage they desire. With the "natural breast augmentation," fat is transferred from one area of the body via liposuction, such as the flanks or thighs, and re-injected into the breasts. This provides a more subtle enhancement for the size and shape of the breasts.
If you are interested in how augmentating your breasts can help you achieve a fuller chest size with improved cleavage, please contact The Aesthetic Institute of Chicago to schedule your consultation with one of our board-certified plastic surgeons.