/
/
Male Breast Reduction (Gynecomastia)
Male Breast Reduction (Gynecomastia)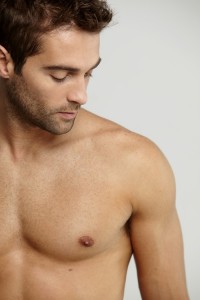 A male breast reduction is an operation performed to correct overdeveloped or enlarged male breasts, a condition known as gynecomastia. This common condition afflicts men of varying age, and most adolescent cases resolve spontaneously with time. Gynecomastia can involve one or both breasts, and the enlarged breast may feel tender and painful at times. Certain drug side effects cause male breast enlargement but gynecomastia is most often due to an unknown cause. Once longstanding, most males seek treatment for breast enlargement to avoid embarrassment and restore normal male chest contours. Surgical results are excellent in the hands of a properly trained plastic surgeon.
Both Dr. Braithwaite and Dr. Cobbins have extensive experience with male breast correction surgery. To achieve the best results, both doctors usually combine liposuction with excisional techniques. Depending on the characteristics of the breast tissue, it may be excised through a small semicircular incision around the areola, then liposuction is performed to sculpt and contour the surrounding soft tissue. The best results in gynecomastia surgery stem from proper liposuction contouring and expert breast tissue excision.
To determine if you are a good candidate for male breast reduction surgery, Dr. Braithwaite or Dr. Cobbins will review your health history and perform an examination during your consultation. We will also take preoperative photos during your visit. During the consultation, we will take time to understand your goals and desires as well as review available techniques for treatment. Male breast reduction surgery can be performed as an outpatient procedure under general or local anesthesia. We instruct all gynecomastia patients to wear compression vests and to avoid strenuous upper body activity for several weeks. Patients may drive and return to work once they discontinue narcotic pain medicine.
If you would like to schedule a consultation for male breast reduction at our Chicago plastic surgery practice please contact us via email or call (312) 361-8108 today!