/
/
Breast Reconstruction
Breast Reconstruction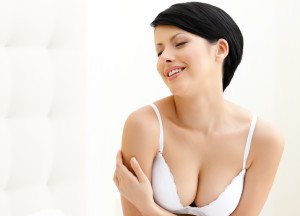 Breast reconstruction is surgery performed to recreate a breast mound in women who have had their breast removed, usually due to breast cancer. Reasonable goals for breast reconstruction include rebuilding a natural looking breast that resembles the opposite breast in size and shape. Bilateral breast reconstruction is becoming increasingly more common as many women opt to have both breasts removed during the course of their treatment. Immediate breast reconstruction refers to initiating the reconstructive effort at the time of mastectomy whereas delayed reconstruction postpones this process for several weeks or even years after mastectomy. Breast reconstruction almost always requires several staged operations, especially if nipple reconstruction is desired. Despite this prolonged process, the vast majority of women receive attractive and durable breast reconstructions with modern plastic surgery techniques.
Board-certified plastic surgeons Brian Braithwaite, MD and Lorri Cobbins, MD have tremendous experience with breast reconstruction, particularly implant-based reconstruction. During your consultation, you will learn that virtually all women have three options pertaining to breast reconstruction: no reconstruction, implant-based reconstruction, or flap reconstruction. No reconstruction is a viable option for some women, particularly those who smoke, are obese, or have chronic medical conditions precluding safe surgery. These women wear external prostheses to achieve contour and symmetry. Implant-based reconstruction is, by far, the most common technique for breast reconstruction in the United States. During surgery, a breast tissue expander is placed behind the muscle and skin left after mastectomy. This temporary implant is later serially expanded in the office, expanding these soft tissues until the breast mound reaches a sufficient size. The temporary implant is ultimately replaced with a final breast implant during a second procedure. In addition to nipple reconstruction, subsequent procedures may include reducing, enlarging, or lifting the opposite breast for improved symmetry. Finally, flap reconstruction involves transferring a woman's own tissues to her missing breast, usually to avoid an implant or replace damaged, radiated tissue. Tissue is commonly relocated from the abdomen (TRAM flap), back (lat dorsi flap), or buttocks area (S-GAP flap) to perform these operations. Many patients and doctors find that flap reconstruction outcomes look and feel more natural, despite the added scars and healing time.
To determine if you are a good candidate for breast reconstruction, Dr. Braithwaite or Dr. Cobbins will review your health history and perform an examination during your consultation. We will also take preoperative photos during your visit. During the consultation, we will take time to understand your goals and desires, and review all available techniques for breast reconstruction. Breast reconstruction is usually performed under general anesthesia and can be either inpatient or outpatient surgery, depending on the procedure. We instruct all implant-based breast reconstruction patients to wear sports bras instead of cupped bras during their treatment, to allow for changing sizes and shapes. Strenuous upper body activity is avoided during certain phases of treatment, and patients are allowed to drive and return to work once they discontinue narcotic pain medicine.
If you would like to schedule a consultation for breast reconstruction at our Chicago plastic surgery practice please contact us via email or call (312) 361-8108 today!